Sophotech GBS, a wholly-owned subsidiary of Sophotech Global, is a wholesaler of variety of goods which focuses on creating, uplifting, and sustaining the livelihood of Filipino farmers, fishermen and small-scale industries while ensuring that all customers' expectations are exceeded in all transactions.
OUR VISION
At Sophotech GBS is to be the preferred partner in the supply, branding, marketing and distribution of farm produce, livestock, seafood's and construction materials.
Total customer satisfaction is our aim and commitment in providing opportunities to Filipino farmers, fishermen and small-scale industry owners.
OUR MISSION
Attain all year round sustainable production and supply-ability through enhancing small-scale farmers, fishermen and industry owners towards the best use of resources and provision to both the consumers and small-scale owners a reliable market of high-quality products.
We are committed in supplying and distributing an extensive variety of high quality crops, fruits, vegetables, seafood's, meats, poultry and construction materials at a reasonable price to our customers by being a leader in the industry through effective and efficient operations, in-depth knowledge and experience in the industry, and providing top-notch customer service.
OUR PRODUCTS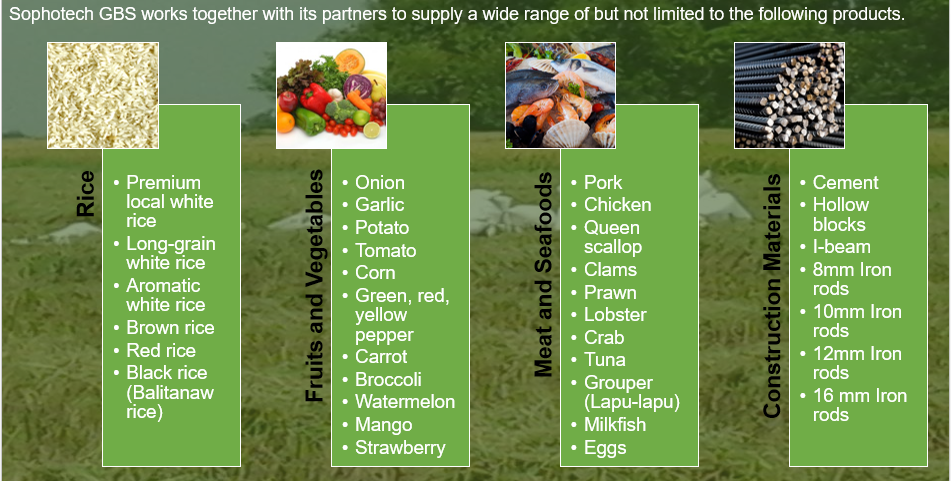 OUR QUALITY POLICY